Our Riverdale, Ogden Office Doctors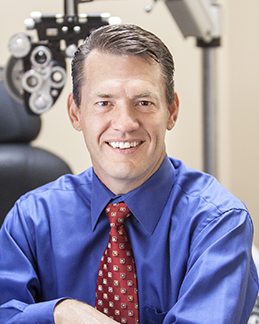 Dr. Lavar Kofoed
Dr. Lavar Kofoed has been practicing Optometry in the Treasure Valley for the last 20 years. He is the CEO of LWK PC, the parent company of Dr. Kofoed and Associates – The Eye Pros. Dr. Kofoed is responsible for all the Optometrists for Dr. Barnes Eyemart Express in the great State of Idaho. He graduated from Fruitland High 1985. In 1992 he received a BS Degree  from Brigham Young University and then a Doctorate from Pacific University College of Optometry in 1996. He is a member of the Idaho Optometric Physicians (IOP) and the American Optometric Associations (AOA). He works with local ophthalmologists in co-managing surgical procedures including LASIK, PRK, and cataract surgery.
Dr. Kofoed is married with 11 children. He spends most of his spare time with his family, who sings and performs on a regular basis. He loves America and the freedom he enjoys as a patriotic citizen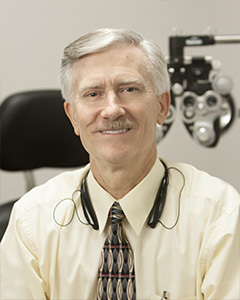 Dr. Roy R Gibson
Dr. Roy R Gibson comes to us from New York, near Niagara Falls. He has been a proud resident of Utah since 1988. He and his wife, Sheryl, have 9 children and 19 grandchildren. He enjoys most sports but more than others perhaps volleyball, golfing, and racquetball. Along with sports he enjoys gospel discussions and having fun with family. Dr. Gibson graduated from the University of Houston School of Optometry.
He has served the Utah area for over 33 years including, the University of Utah where he served as the optometry clinic director; Pearle Vision, Standard Optical, FHP , Talbert Medical group, and the Mount Ogden Eye Center as well as Sam's Club for over 18 years. Dr. Gibson co-manages laser, refractive and cataract surgeries. He has undergone Lasik surgery himself and has enjoyed the visual freedom it has given him. Since 2001, Dr Gibson and his associates have given Optometric care for the Sam's vision centers in Layton and Riverdale.
His work ethic and Leadership skills have allowed him to serve for several years on the Sam's West region advisory panel, made up of seven doctors, to represent its National corporate doctors in implementing efficiency and quality of care to patients and staff. Dr. Gibson served as an active duty Air Force Optometry officer in Washington DC. He served with the Reserve 419th Medical Squadron at Hill Air Force Base keeping an 1800 member Fighter Wing Vision ready. He managed the optometry clinic including the soft contact lens program for Pilots. He is a veteran of Desert Storm and retired from the Air Force as a Lieutenant Colonel. He flew the F-16 fighter jet with the Air Force Optometry Top Eye program.
Visit Our Riverdale, Ogden Office
---
4115 S Riverdale Rd. Riverdale UT 84405
---
Phone
(801) 872-2020
---
Monday – Friday
9:00am – 6:00pm
(last appointment 5:30)
---
Saturday
9:00am – 4:00pm
(last appointment 3:30)
---
Sunday
Our offices are closed on Sundays